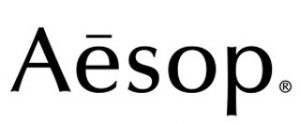 Launching in 1987, Aesop have proven not only that they create outstanding natural plant-based body, hair and skincare products for both men and women but also with great concern for the environment – Not only when creating their merchandise, but also in choosing and appropriate location and concept for each of their stylish stores around the world in which to showcase their unique product range.
Aesop Philosophy
Aesop believe that their product range is best utilised as part of a balanced daily lifestyle that includes regular exercise, a healthy diet, red wine in moderation (containing anti-oxidants) and kicking back with a good book! This company strive to design products that will not only cleanse your skin and hair but also improve texture and smoothness resulting in healthy hair and skin.
Aesop Product Range
Body Care
Cleansing:
A Rose By Any Other Name Body Cleanser
Body Cleaning Slab
Coriander Seed Body Cleanser
Coriander Seed Soap Slab
Geranium Leaf Body Cleanser
Geranium Leaf Body Scrub
Resurrection Aromatique Hand Wash
Resurrection Rinse-Free Hand Wash
Moisturising:
Geranium Leaf Body Balm
Petit Hydrating Body Gel
Rejuvenate Intensive Body Balm
Resurrection Aromatique Hand Balm
Rind Concentrate Body Balm
Treating
Breathless
Geranium Leaf Hydrating Body Treatment
Hair Care
Cleansing
Calming Shampoo
Classic Shampoo
Colour Protection Shampoo
Equalising Shampoo
Nurturing Shampoo
Volumising Shampoo
Conditioning
Classic Conditioner
Colour Protection Conditioner
Nurturing Conditioner
Volumising Conditioner
Treating
Rose Hair & Scalp Moisturising Masque
Sage & Cedar Scalp Treatment
Grooming
Skincare
Cleansing
Parsley Seed Facial Cleanser
Parsley Seed Facial Cleansing Oil
Fabulous Face Cleanser
Amazing Face Cleanser
Purifying Facial Cream Cleanser
Remove
Primrose Facial Cleansing Masque
Chamomile Concentrate Anti-Blemish Masque
Parsley Seed Cleansing Masque
Tea Tree Leaf Facial Exfoliant
Purifying Facial Exfoliant Paste
Toning
B & Tea Balancing Toner
Bitter Orange Astringent Toner
Parsley Seed Anti-Oxidant Facial Toner
Spot Treatment
Hydrating
B Triple C Facial Balancing Gel
Camellia Nut Facial Hydrating Cream
Fabulous Face Oil
Immediate Moisture Facial Hydrosol
Mandarin Facial Hydrating Cream
Oil Free Facial Hydrating Serum
Parsley Seed Anti-Oxidant Eye Cream
Parsley Seed Anti-Oxidant Eye Serum
Parsley Seed Anti-Oxidant Serum
Perfect Facial Hydrating Cream
Primrose Facial Hydrating Cream
Rosehip Seed Lip Cream
Sage & Zinc Facial Hydrating Cream SPF15
Tuberose Lip Heal
Shaving:
Moroccan Neroli Post-Shave Lotion
Moroccan Neroli Shaving Duet
Moroccan Neroli Shaving Serum
Treatment:
Damascan Rose Facial Treatment
Parsley Seed Anti-Oxidant Facial Treatment
A Rose By Any Other Name Body Cleanser
This light foaming body cleanser is perfect for everyday use, is deeply aromatic from the Rose petal oil that provides the skin with a gentle yet thorough cleanse with added skin softening effects produced by the addition of botanical extracts.
Aesop Amazing Face Cleanser
Receive a deep, squeaky clean cleanse with the Amazing Face Cleanser.  It's beautifully fragrant, and just a small drop (5p/dime sized) in the palm of the hand is enough to cleanse your face and neck leaving skin feeling soft, smooth and beautifully clean.  Buy Amazing Face Cleanser
Sage & Zinc Facial Hydrating Cream
As with all Aesop products, the first thing you notice is the intoxicating aroma (definitely Sage and Lavender in there) – delicious.   For everyday use on all types of skin, the Sage & Zinc Facial Hydrating Cream provides a much-needed serving of moisture and anti-oxidants to the skin, and with the added SPF15 you'll receive sun protection too. Buy Sage & Zinc Facial cream
Sage Scalp Cleansing Shampoo
With a refreshing fragrance of mint and eucalyptus, the gentle soothing effects of calming botanical extracts work to heal and soothe an irritated, flaky scalp. Whilst hydration is provided by natural plant extracts.  Massage a small amount of the Sage scalp cleansing shampoo into the scalp, then rinse and condition.
It's obvious that the researchers and chemical scientists at Aesop know their thing and are committed to continuing to produce body, hair and skin products that offer positive cleansing, healing and hydrating results.  Not only that but with every Aesop product I have tried and tested, each one is able to boast the most intoxicating natural fragrance which can only be acquired by using natural botanical and plant extracts that they have sourced from around the globe.  Try a selection of the Aesop products today and let us know your thoughts on their stylish range of skincare goodies.
Save
https://mens.boutique/wp-content/uploads/2016/06/Aesop-logo.jpg
132
320
Mens Boutique
https://mens.boutique/wp-content/uploads/2016/05/mens-boutique.png
Mens Boutique
2012-06-24 12:56:08
2017-03-12 18:07:57
Aesop Body, Hair and Skin Care